3 Steps, 30 minutes, the BEST SKIN OF YOUR LIFE!
HydraFacial uses state of the art, patented technology to CLEANSE, EXTRACT, and HYDRATE your skin! HydraFacial's Super Serums are made with nourishing ingredients including antioxidants and powerful peptides that create an instantly gratifying glow in just 3 steps:
CLEANSE and PEEL: Uncover a new layer of skin with gentle exfoliation and relaxing resurfacing.
EXTRACT and HYDRATE: Remove debris from pores with painless suction. Nourish with intense moisturizers that quench the skin.
FUSE AND PROTECT: Hydrafacial saturates the skin's surface with antioxidants and peptides to maximize your glow!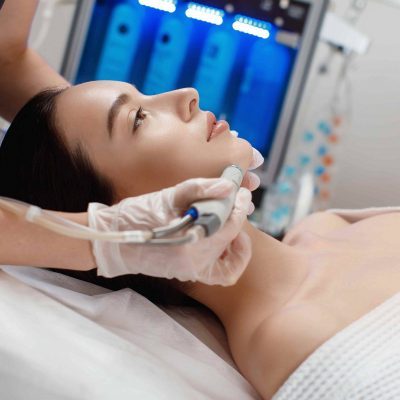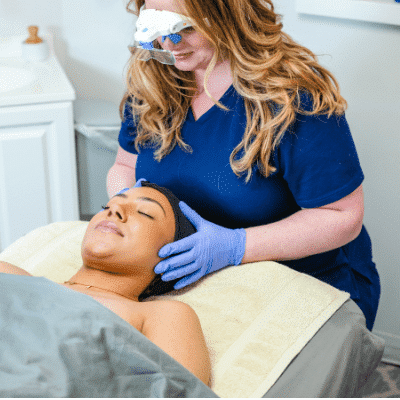 What Sets Hydrafacial Apart From Other Hydradermabrasion Procedures?
HydraFacial uses a unique, patented Vortex-Fusion delivery system to exfoliate, extract and hydrate your skin!  This amazing treatment delivers immediate, noticeable results with no downtime!
Using Vortex-Fusion technology and a spiral design of HydroPeel®Tips, plus the HydraFacial proprietary vacuum technology and serums, this treatment creates vortex power to remove and eradicate the impurities that dull your skin. At the same time, Vortex-Fusion technology delivers hydration and nourishment to your skin.
HydraFacial is safe for ALL skin types and ALL skincare needs!
Smoothing and Refining: Reduces fine lines and wrinkles
Firming and Restoring: Improves elasticity and firmness
Brightening: Lightened brown spots/hyperpigmentation
Improved skin tone and vibrancy
Improved skin texture
Improved oily and congested skin.
Reduction in size of pores
Calming of inflamed skin
Lip treatments
Eye treatments
Body treatments
Scalp treatments
Lymphatic drainage
HydraFacial is for EVERYONE – don't miss out on this INCREDIBLE treatment!